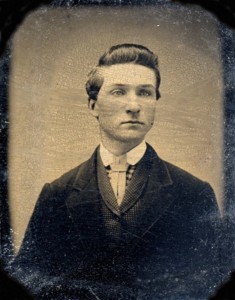 Norman Wertman was only 18 years old when he joined the service as a member of company A, 196th OVI

.

.

.

Norman Wertman's diary was published here with

permission from his Great Great Grandson, Edward Howard,

Mr. Howard was kind enough to transcribe Norman's

diary for me so that I could add to this web site.

.

.

Mr. Howard describes the diary contents as follows:

.

.

All of the grammar and punctuation have been kept as is presented on the page.

The book is filed with table and entries concerning finances, expenses, received letters and sent letters, family and friend's addresses, game scores, etc.

The book was also filled with ephemera including address cards, his dog tags, teaching certificate, and newspaper clipping detailing "Handkerchief Flirtations" The book was also apparently used in 1866.

There are a number of expense table dated 1866. He even kept monthly track of his weight.

.

.

Mr. Howard states that his ancestor wasn't a prolific writer, but he did seem to get some of his experience down.

Which helped fill some voids in the detailed history of the 196th OVI.