Bacon, William
Captain
Promoted Captain in Quarter Master Dept. 9-1-61 and ordered to report to Governor Brown for duty assignment
Rolls Dec 61 thru Feb 62 present at Yorktown, Va.
In 1862 he served as Captain & Adjutant Quarter Master of the 23rd Ga.
March 63 he served as Post Quarter Master at Atlanta, Ga.
Promoted Major 6-18-63 in the Quarter Master Dept.
Sept 21, 1863 he was serving as Maj. & Q.M. Dept. at Atlanta, Ga. in "Tax in Kind service"
July 25th 1865 serving in same capacity at Augusta Ga., where he was serving 5-1-65
.
Ballenger, Marcus R Colonel
mustered 8-31-61 Camp McDonald, Ga. 31 yrs
Dec 61 to Feb 62 Yorktown present
Promoted Major 9-17-62
Rolls Mar/Apr 64 present
Promoted Colonel 8-13-64
Promoted Lt. Colonel 8-20-64
Promoted Colonel 1-5-65
Surrendered at Goldsboro, N.C. 4-26-65
This man testified at Emory F. Best's Court Martial
In Addition: Mr. Ballenger is buried at the Cemetery of Floyd Springs Methodist Church
Location: N 34° 25.501 W085°09.367 Floyd Springs Road Floyd County, Georgia
.
Date of Visit: January 26, 2009
.
Inscription:
.
Dr. Marcus Ballenger
Born Jan 10 1827
Died Jan 12, 1886
.
A beloved physician, an affectionate husband, a worthy patriot, a valiant soldier, a true friend. "rests from his labors and his works do praise him"
.
Marcus R. Ballenger was elected to the captaincy of the Floyd Springs Guards on August 31, 1861. This company became Company C of the 23rd Georgia Infantry. On September 17, 1862 Captain Ballenger was wounded during the Battle of Antietam as was the regiment commander Colonel William Barclay. In November Ballenger was named Major of the regiment. On June 22, 1863 the regimental commander Colonel Emery F. Best was relieved of his command and placed under arrest. Major Ballenger assumed command of his regiment. Ballenger lead the regiment as a part of Colquitt's Brigade during the investment of Fort Wagner, during operations in the Cape Fear District, the second defense of Fort Fisher and in the defensive positions around Petersburg and Richmond. He was named Lieutenant Colonel in August of 1864 and Colonel of the regiment in January of 1865. He surrendered the regiment in Greensboro, North Carolina on April 26, 1865. He returned to Floyd Springs and served his community as a physician as he did before the war. Dr. Ballenger also served one term in the Georgia General Assembly.
.
Barclay, William P Lt. Colonel
mustered 8-31-61 Camp McDonald, Ga.
Appointed Lt. Col. 8-31-61
Promoted Colonel 6-12-62
Killed 9-17-62 at the Battle of Sharpsburg, Md.
Father: Elihu S. Barclay, filed for bounty at Blairsville, Ga.
.
Best, Emory Fisk Colonel
born about 1842 Md.
See personal papers of John Howard Captain = Engineering Corps 23 yrs
Promoted Full Lt. Col. 8-16-62 from Major
Roll Jan/Feb 62 present Yorktown, Va.
Promoted to Full Colonel 9-17-62
Dismissed by Court Martial 12-23-63
Captured at Antietam, Md. 9-17-62, was severely wounded at Cramton's Gap and was taken prisoner.
Paroled at Frederick, Md. 10-2-62
Court Marshaled for abandoning his troops in a Rail Road cut near Fredericksburg, Va. 5-3-63 in Battle = Ran to the rear with some of his men. Said some didn't hear his order to retreat from heavy fire in the face of the enemy, said he was ordered by a superior officer to retreat, was convicted and removed from his command.
... Charged with Cowardly act of abandoning his troops in a time of danger. Tried to get his case retried upon new evidence of testimony not in his possession at time of trial.
A man named Warren Akin wrote President Davis to have him reconsider the Courts finding and restore him back to Full Colonel in command of his Regiment. Letter dated 6-28-63
... Letter states Best has five sons and his father is a minister. Best was placed under arrest by order of General Colquitt and was tried before a Military Court in Charleston, S.C.
... Best writes a letter to a Gen Thomas Carter 9-17-63 to try to get his case moving because he has been in jail for so long in Camp on James Island, only person helping to prepare his case, is a Gen Whiting at Wilmington, N.C.
He was dismissed and Cashiered by sentence of Court Martial 12-7-63
.
Best, H.S.(Hezekiah Spencer) Ordinance Sgt

born about 1840 Md.

enlisted 6-10-61 at Camp McDonald, Ga.

Detailed as Ordinance Sgt by Col. Emory F. Best at

James Island, S.C. 10-3-63

Roll Mar/Apr 64 present, Ord. Sgt. before that time according to pay received as Ord. Sgt. from earliest record found 1-1-63

.

Boston, William J Major

mustered 8-31-61 at Camp McDonald, Ga.

Roll Dec 61 present

Promoted to 2nd Lt. 9-3-61

Roll Jan/Feb 62 Present at Yorktown, Va. ( Jan 62 in Artillery service), Feb 62, Sick

Promoted to Captain 5-22-62

Captured at Chancellorsville 5-2-63

Roll Sep/Oct 63 absent, furloughed to Ga. since 10-30-63

Admitted to Jackson Hosp 6-9-64, Rising on left hand, returned to duty 7-4-64

Promoted to Major 8-13-64 notes from Capt Boston for 10-26-64, states that unit strength was 482 total including disabled, 442 agrogate

Surrendered at Goldsboro, N.C. 4-26-65 note: Also with Co. A

.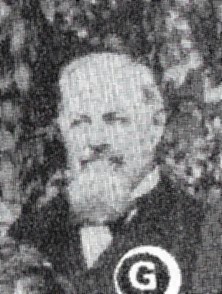 Rev William A Dodge, later in life
Dodge, William Asbury Chaplain
Roll Mar/Apr 64 in Augusta Ga. absent temporary leave of absence
Surrendered at Goldsboro, N.C. 4-26-65
Born Columbia County, Ga. 30 September 1864; died 16 September 1904. Methodist Episcopal Church, South (MECS), minister, evangelist, editor, author, and one of the founders of the Georgia Holiness Association and Indian Springs Holiness Camp Meeting. William A. Dodge grew up in a Methodist home and became a Christian before his 14th birthday. Receiving his preacher's license on his 17th birthday, he entered the ministry of Georgia Annual Conference of the MECS in 1862. After serving as chaplain in the Confederate army (1864-1865), he returned to the pastorate and was ordained an elder in 1869. He served as a presiding elder (district superintendent) of the Dahlonega and Gainesville Districts and in 1875 to 1876 as a pastor of a large MECS congregation in Atlanta. A friend introduced him to some popular Holiness literature, including the writings of Phoebe Palmer, and a new southern periodical, the Way of Holiness. Dodge claimed entire sanctification in 1870 and again in 1873, but he lost the experience both times.
.
Edwards, George R Chaplain
Roll Feb 62 absent on leave for 30 days in Georgia
Became Chaplain for Regiment 9-21-61
(see also Co. C)
.
Everett, Thaddeus 1st Sgt/ 2nd Master Sgt
mustered 8-31-61 at Camp McDonald, Ga.
Furloughed 20 days 6-13-63 to 7-3-63
Received 10 days rations for detached service for transit from Charleston, S.C. to Atlanta, Ga. for Sept 16th thru 26th 63
Roll Apr 64 present, last on file
Surrendered at Goldsboro, N.C. 4-26-65
.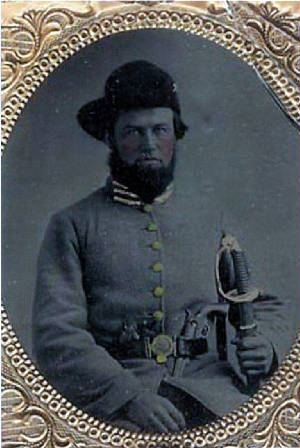 Col. James Howard Huggins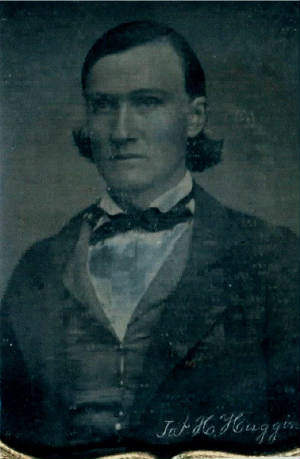 James H Huggins 2nd picture
Huggins, James Howard Lt. Colonel
Born: 8-22-1828
On sick furlough at Union Co. Ga. from 2-3-62 to 3-4-62
Appointed Major 6-12-62
Wounded: 9-14-62 at Battle of South Mountain in the left leg by a piece of shell, in a few minutes he was struck in the right leg by a ball just below the knee, lodging between the Fibula & Tibia bones pressing against the artery, where it still remains
Appointed Lt. Colonel 9-17-62
Admitted CSA Gen Military Hosp #4, Wilmington, N.C. 7-24-63 Intermittent Fever till 7-25-63, P.O. Youngs Cave Ga.
Appointed Colonel 12-15-63
Admitted Poplar Lawn Hosp Petersburg, Va. 6-5-64 returned to duty
Resigned 8-3-64 For reason of being a member of the Legislature of the State of Georgia
Born in N.C., Resident of Georgia
Sept 23rd 1863, at Morganton, Ga. unable to report to duty because of Gun Shot Wound in the Right Leg, extended furlough to Augusta Ga. 10-31-64, check for $865.65
Filed in Hall Co. Ga.
James Howard Huggins (son of Robert Huggins and Mary Polly Miller Watson) was born August 22, 1828 in Near Sugar Creek, Macon county, NC, and died March 01, 1899 in Lula, Hall county, GA. He married Mary Jones on October 10, 1847 in Union county, GA, daughter of John Jones and Letitia Melton.
Burial: Unknown, Oconee Cemetery, Athens, GA.
Census: 1870, Union county, Ga.
Elected: Member of the first Georgia legislature.
1: Confederate Army - Colonel.
2: August 31, 1861, Enlisted as a a Private in Company B, 23rd Regiment, Georgia.
3: August 16, 1862, Promoted to Full Major.
4: September 14, 1862, Wounded at South Mountain, MD.
5: September 17, 1862, Promoted to Full Lieutenant Colonel.
6: December 15, 1863, Promoted to Full Colonel.
7: August 13, 1864, Resigned.2
Occupation: 1866 - opened general mercantile store in Athens, GA.
Hutcherson, Thomas Colonel
Mustered 8-31-61 at Camp McDonald, Ga.
Furloughed 1-31-62
Resigned 6-12-62 for Chronic Diarrhea in the city of Richmond, Va.
Residence: Cherokee County Ga.
Survived the war, still in Cherokee Co. Ga. as of 11-12-1879
.
Morgan, J.D. Surgeon
Commissioned 6-20-63, surrendered and Paroled at Goldsboro, N.C. 4-26-65
He was Paid at James Island, S.C. for the month of Sep 63
1 card shows he was at Camp Milton, Fl. on 4-29-64
.
Sanders, Charles E Adjutant
enlisted 8-27-61 in Cobb County Ga.
Roll Dec 61 thru Feb 62 at Yorktown, Va.
Died 5-31-62 in Battle of Seven Pines, Va.
Res: Cobb County, Ga.
.
Sharp, John J.A. Lieutenant Colonel
mustered 8-31-61 at Camp McDonald, Ga.
Appointed captain 8-31-61
Roll 8-31-61 to 12-61 signs as Company Commanding
Roll Dec61 thru Jan 62 present at Yorktown, Va.
Roll Feb 62 absent on Recruiting Service
Captured near Fredericksburg, Va. 5-3-63 or Captured at Chancellorsville 5-2-63
Roll Jul/Aug 63 present
Roll Sep/Oct 63 absent sick, on sick leave 10-10-63
Promoted Major 12-15-63
see personal papers of W.J. Boston and C.C. Sharp
Roll Nov 63 thru Apr 64 present
Promoted Lt. Colonel 8-13-64
Admitted CSA Gen Hosp #3, Greensboro, N.C. 3-65
note: also Captain of Co. G
.
Speir, James H Asst. Surgeon
Roll Dec 61 to Jan 64 present at Yorktown, Va.
Paid from 9-2-61 to 10-2-61 $110.00
Resigned 1-8-62 because of Chronic Bronchitis & Rheumatism and riggors of camp life by Surgeon S.W. Thompson
.
Thompson, Samuel W Sgt / Surgeon
Appointed Surgeon 7-19-61
Appointed Private Physician in Gen Hosp Appointed by Gov. Brown
Chronic Dysentery & Hemorrhoids (no cure)
.
Ware, E.A.O. Surgeon
Captured at Battle of Antietam 9-17-62 and exchanged at Aikens Landing 11-10-62
POW at Fort McHenry, Md. sent to Fort Monroe, Va. for exchange
Resigned 2-20-63
.
Young, Thomas Surgeon
enlisted 10-22-62
Appointed Surgeon 11-18-62
Served with the 26th Ga. in Pensacola, Fl. Before being transferred to a new regiment
Diary entry of J W Clements, Asst. Surg. For the 23rd Ga. states that he came to the 23rd on 10-22-1862 and left the 1st of May 1863
Got a furlough and went home and never returned
Discharged 4-28-63 Wife:, Cynthia, filed for pension in Faulkner Co. Ga.
Resigned 5-6-63 for reason of Chronic Dysentery