M. V. BREWER, Ranger, Eastland County, Texas. Born in Grayson County, Va., twenty miles from Independence.
.
Enlisted in the Confederate Army in Floyd County. Ga., and was mustered in at Richmond, Va., April 3, 1861, as private, Company C, Twenty-Third Georgia Infantry. Name of my first Captain was Ballinger and first Colonel was Best; Hill's Division and then Hoke's, A. P. Hill's Corps, Army of Virginia.
.
We were sent to Charleston, S. C, in the winter of '63, and in the spring of '64 were sent to Florida. Was there a short time and returned to Old Virginia, where we stayed till early spring of '65 and went to North Carolina. Was never wounded.
.
Was in the battles of South Mountain, Md., in 1862; Sharpsburg, Md.; Bentonville, N. C. Of all the battles I was in, Fort Sumpter was the hardest. I stayed there fourteen days on duty without taking off my clothes, day or night. The place is out in the sea and I got plenty of it.
.
On the trip to Maryland I was very weak, but waded Potomac River, going and coming. It is strange how much men can stand; more even than a horse; at least they did in those days.
.
John Fowler was shot in the head a few paces from me and Tom Williams was killed by my side later in the day at Sharpsburg. Williams never knew what hit him, as he was shot over the eye and the blood would have run on my feet if I had not raked up the dirt and stopped it.
.
.
The Tom Williams Mr. Brewer is referring to, is George T (Thomas) Williams from Co. C, 17 years old when he enlisted in 1861, 18 when he died.
.
.
John Fowler, also was from Co. C, his records didn't say what happened to him, now it's known.
Below is a letter written by Martin V Brewer of Co. C and under it is the type script of what it says, Martin's spelling is kept in tact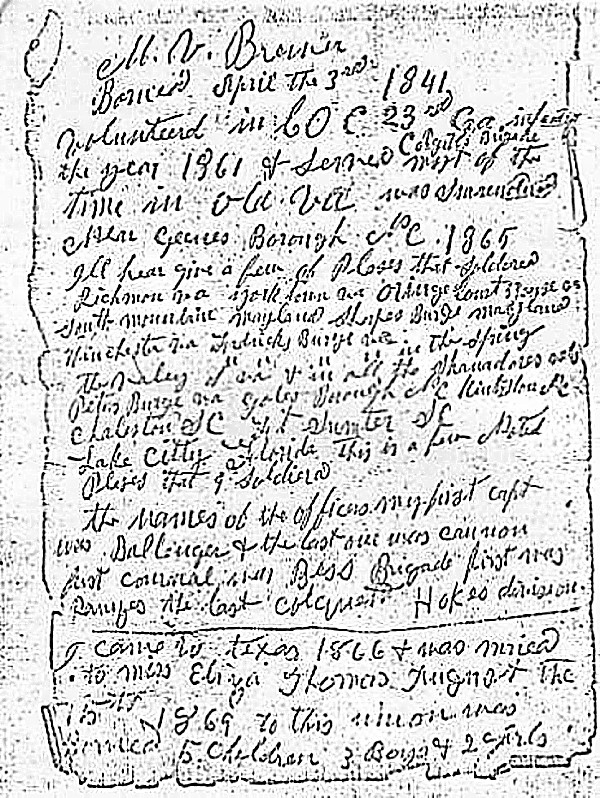 M V Brewer
Borned April the 3rd 1841
volunteerd in Co C 23rd Ga infantry
the year 1861 + Served rest of the
time in old va. was surrenderd
near Greens Borough NC 1865
I hear give a few of the plases that Soldered
Richmon va yorktown va Oringe Court House and
South mountain maryland Sharpes Burge maryland
Winchester va Fredricks Burge va in the spring
the valey of va + in all the shanandoas and
Peters Burge va Goles Burough NC Kintston NC
charleston SC Ft Sumter SC
Lake Citty Florida this is a few stated
plases that I Soldierd
the names of the officers. my first capt
was Ballinger + the last one was Cannon
first cournal was Bess Brigade first was
Rainyes the last colquett Hokes division
________________________________
I came to texas 1866 + was mried
to miss Eliza Thomas August the
15th 1869 to this union was
Borned 5 children 3 Boys + 2 girls